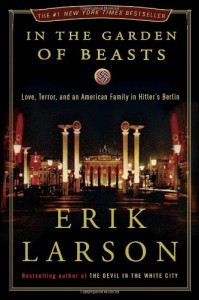 This was a really readable history of the handful of years leading up to Hitler's seizure of power in pre-WWII Germany.
It's from the perspective of the American ambassador to Germany, who was of course station in Berlin, so he and his family had the unique point of view of a fairly privileged position as Berlin and Germany itself descended into the madness that allowed Germany's power grabs.
The book is in the style of Devil in the White City, Larson's previous hit, which is a sort of narrative telling of history. He bases his work on letters, and largely on the diaries of the ambassador's 20-something daughter, who came along to Berlin.
The whole thing is fascinating in a sort of gruesome way, watching Berlin fall under the spell of militarism and nationalism as Hitler slowly chipped away at any resistance. After the first few months of their residency, the Americans had no delusions about what was happening, nor, it seems, did many of the city's literary/artistic citizens. There was resistance from the very beginning, but, to the ambassador's frustration, the reaction from the United States was tepid at best, racist at worst.
Anyway, this is a good introduction to the prewar years in Germany. Recommended!